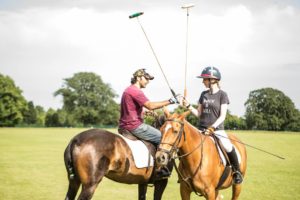 Polo Academy
Are you ready to play the most addicting sport in the world? Sign up today for our Polo Academy!
Throughout the summer months, The All Ireland Polo Club, in cooperation with Palo Alto Polo Club from Argentina, have set up a polo academy. The Argentine team is very excited to offer these lessons to anyone who may be interested to have a go at this Sport of Kings. There is an option on an introduction lesson & and lesson packages. For more information contact us here.
What to expect?
During the first lessons we intend to teach you the basics. Every lesson we will focus a short time on riding and then move on to the polo technique (shots, ride off, strategy and rules). During the following lessons we will increment the speed and difficulty level, each time bringing you closer to becoming a polo player. Once you have completed our lesson program you should be ready to become part op the polo club and start playing matches.
Where?
The lessons are held at the All Ireland Polo Club in the Phoenix Park. Due to this wonderful location one can get a lesson after work or organise it for weekend. Exact address: Polo Grounds in the Phoenix Park.